High demand for welders worldwide
There is a rising demand for skilled welders in various workplaces worldwide. And this is good news for Filipino welders seeking employment overseas.
This demand for welders was reported to the Technical Education and Skills Development Authority (TESDA) by Yangwha Human Resources Corporation, a Manila-based overseas placement firm which deploys Filipino welders to contractors of oil and gas refineries and power plants in the Middle East.
In a report to Secretary Augusto Boboy Syjuco, TESDA director general, Acela Quibrantar, president of Yangwha, informed TESDA of the good employment prospects for welders trained under the PGMA Training for Work Scholarships (PGMA-TWSP) project.
Quibrantar said that her company has a total of 509 welder-scholar graduates of PGMA-TWSP project now ready for deployment to their job principals in the Middle East, Korea, Australia and Canada.
Of this number, 494 have competencies in gas metal arc welding (GMAW) and 115 in shielded metal arc welding (SMAW).
TESDA records, according to Secretary Syjuco, show that some 179 welders of both GMAW and SMAW qualifications- all graduates of the PGMA-TWSP- have been placed abroad. They are now working in Saudi Arabia, Iran, Qatar, Russia, Australia, and Korea.
In her letter, Quibrantar thanked and acknowledged TESDA's help in equipping Filipino welders with world-class skills for high-paying jobs abroad.
"We sincerely thank TESDA for trusting us that we will be able to help Filipinos improve their economic and social status through skills development and job placement, "Quibrantar said.
Secretary Syjuco also announced that TESDA has included the training in gas tungsten arc welding (GTAW) in the list of courses supported under the PGMA-TWSP project.
Previously only GMAW and SMAW welding training are included in the PGMA scholarship. The scholarship cost for each of the two courses is P7, 000 and P10, 000 respectively. Both courses are covered by National Certificate II qualifications.
Welders with GTAW qualifications, according to Yangwha officials, are more in demand abroad and command higher pay.
TESDA has approved training regulations for National Certificates II and IV for gas tungsten arc welding (GTAW).
Aside from overseas job placement, Yangwha also administers a TESDA-accredited training and assessment center. The company has established job markets in Qatar, United Arab Emirates, Saudi Arabia, Oman, Kuwait, and Korea.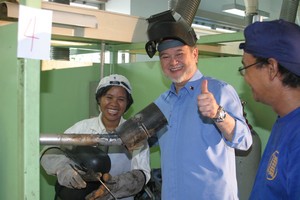 Secretary Augusto Boboy Syjuco (center)poses with a lady welder trainee and trainor at the TESDA Women's Center in Taguig City
TESDA News and Features
Labels: employment, tesda, welder